Naturals Ice Cream was born out of our founder Raghunandan Srinivas Kamath's dream to introduce supreme quality ice cream to India. Having grown up around fruits owing to his father's business, Mr Kamath grew fond of fruits deeply and realised its potential and diversity to spread joy. He wanted to stand out in the crowded market of ice creams by creating a unique product that had never been seen before – fruit based ice creams with no additives or preservatives, hence our name Naturals.
His philosophy while conceptualising Naturals was simple. He wanted to mimic the feeling and impact his mother's simple cooking made with minimal ingredients and an earnest passionate mindset, into building this product. Hence almost every Naturals Ice Cream has only three components – milk, sugar and fruit. Even today despite the love and goodwill we have received and our pan India reach, we still can proudly accept that our ice creams are artisanal, free of any additives, leading to an indulgent and slightly dense scoop of ice cream churned with a whole lot of love.

Since every scoop has only three ingredients, Mr Kamath was extremely conscious that each of our three Natural Ice Cream ingredients were selected keeping supreme quality in mind.
At Naturals we broadly have four categories of ice creams namely all year round, seasonal specials that highlights the season's best produce, festive specials made with premium quality exotic ingredients and our Friday Funday flavour where we launch 52 flavours in 52 weeks, one for each week! The idea of doing this is to keep things fun and cheeky where our consumers can look forward to something new each week. It is also a fun way for our team to innovate with ingredients.
We also have a berry festival where consumers can enjoy flavours of mulberry, blueberry, raspberry, blackcurrant and gooseberry.
A conscious reason for doing this was for us to be able to highlight the fruity jewels of our country. For example, our Chickoo Ice Cream is made with chickoos sourced from Gholvad that has calcium rich soil, our pineapples comes from South India for our Kiwi & Pineapple Ice Cream, our fleshy jackfruits comes from the Konkan region and Andhra Pradesh, juicy Lychees come from Muzaffarpur and Calcutta, our Naturals Tender Coconut Ice Cream coconuts come from Kerala and Karnataka and our Naturals Sitaphal Ice Cream is made with sitaphal sourced from Saswad in Maharashtra. And needless to say, the exclusive seasonal mangoes come from Ratnagiri and Strawberries from the familiar farms of Mahabaleshwar. So, you are basically travelling India through every scoop you pick at Naturals Ice Cream!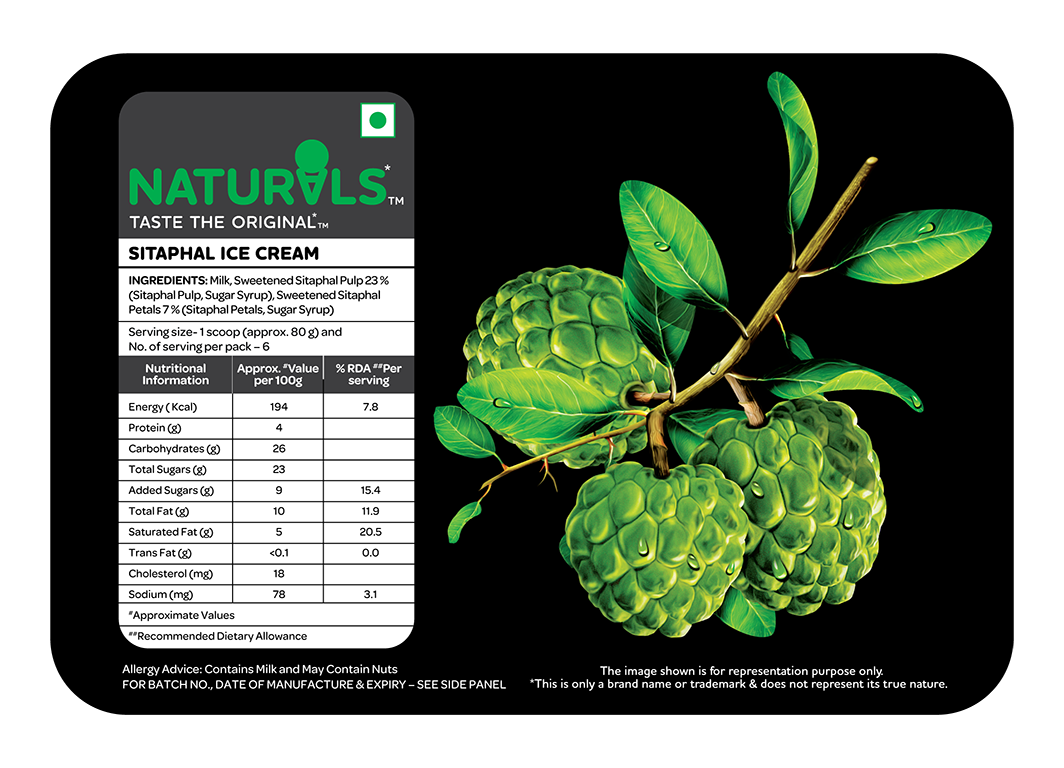 We source a few products internationally too because we believe that every scoop is deserving of the best! Our pistachios come from Iran and the red hued kesar sourced from authentic origins for our Kesar Pista Ice Cream. We also import kiwis from the land of kiwis, New Zealand for our Pineapple Kiwi Ice Cream.
Since most of our ingredients are sourced locally, we ensure that these scoops are moderately priced and affordable for all ice cream lovers. Mr Kamath realised the true sense of joy, fruits brought to his life and wanted to share that with you. The best part about our affordable prices is that you do not have to stop at one scoop.
Consistency is key at Naturals Ice Cream, so whenever you google a Naturals Ice Cream near me on the internet, expect the same flavour, consistency and service when you visit the outlets. Today we have over 165 + outlets spread across 15 states (and counting) and we can't wait to continue to spread this original taste wherever we go!