In 1984, Naturals founder Mr R S Kamath, came to Mumbai from Mangalore and introduced the country to original fruit ice cream. A concept that never existed before but one that he foresaw to have a great potential. Being a son of a fruit seller, he had recognised the versatility and worth of fruits much early in life. Today, most Indians cannot imagine sweet cravings without a midnight stop to Naturals Ice Creams!
When he first came to Mumbai, Mr R S Kamath kicked off his professional journey by in fact selling pav bhaji in Juhu and interestingly, ice cream was just something he sold by the side. This was a strategic move to combine Bombay's love affair with pav bhaji with the uncertainty of how people would respond to fruit ice creams. Soon enough, the ice cream took center stage and his stall was referred to as "the one with the ice cream". While he started off with just about 12 flavours, today Naturals Ice Creams proudly has 100+ flavours and continues to add more. Besides those available year long, one can find spoilt by choice between seasonal specials that incorporate the season's best produce, extra indulgent festive flavours made with exotic fruits and dry fruits, no-added sugar flavours that derive sweetness from the fruit itself and Friday Funday Flavours where there is a new flavour every Friday – 52 flavours for 52 weeks in a year to keep things constantly exciting. Everyone has a favourite today when they come to Naturals but according to popular demand and our beloved team, here are the top 10 best flavours of ice cream that we think you have to try at least once at our ice cream parlours.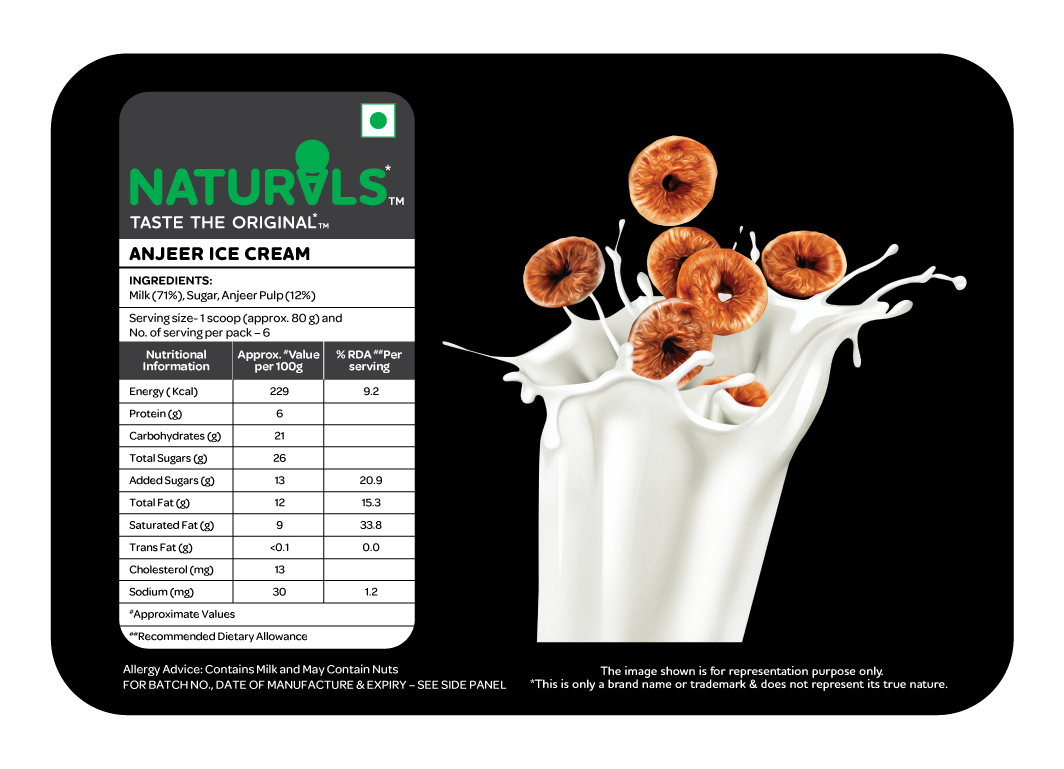 If you love the essence of dry fruits, you have got to try the Anjeer Ice Cream, the Malai Khurma Ice Cream and our Roasted Almonds Ice Cream. The Anjeer Ice Cream is made with figs sourced all the way from Afghanistan, is lightly sweet, rich and has a subtle crunchy texture from high quality figs. Another favourite that is guaranteed to give you a sugar rush is the Malai Khurma. It truly is an epitome of indulgence. Made specially for the month of Ramadan, this celebratory flavour is made with fruits and nuts that are eaten during the holy month and churned with date pulp, cashew, pista, kismis, cardamom powder and saffron. Our Roasted Almonds Ice Cream, although extremely simple, is absolutely divine. Our almonds are sourced from the region famous for them, California but the inimitable taste of this flavour is our very own! The almonds are roasted lending this flavour a crispy and chunky feel.
Chocolate lovers are in for a treat! At Naturals we have multiple flavours decked with chocolatey goodness. One of our all-time favourite chocolate flavours is the Choco Bite made with cocoa solids and hand cut chunks of chocolate sourced from Ghana. The symphony of textures makes this a hard one to resist! For the coffee fanatic – our Coffee Walnut is a true winner! With a flavour that lingers much after – this flavour is made with the best quality of roasted walnuts with just enough of coffee!
Can this list even be complete without our iconic and favourite fruit flavours? We recommend you try our Chickoo, Sitaphal, Tender Coconut, Mango and Strawberry. The Chickoo Ice Cream is made with sweet pulpy chickoos sourced from Gholvad in Maharashtra. These chickoos are particularly famous for the calcium rich soil it grows in, after all we do believe that our customers deserve nothing but the best quality of fruit. Next up is our Sitaphal Ice Cream, namely custard apple. While absolutely indulgent, so many of us refrain from buying it because of the process of peeling each part and eating it. But at Naturals, we wanted to bring back the fun of enjoying this fruit minus the effort of peeling it and our Sitaphal Ice Cream tastes just like eating a big pulpy fruit. Sourced from Saswad, a region in Maharashtra renowned for this fruit, this ice cream is brought to the factory and deseeded in a custom crafted machine created just for this flavour. We want to make sure our ice creams provide maximum happiness and nostalgia! Everyone who comes to Naturals for the first time ends up getting the Tender Coconut Ice Cream – this eternal favourite is absolutely comforting. Indian summers are not easy but when you have our Tender Coconut Ice Cream by your side, it definitely provides the respite we all need. Made with real malai from tender coconuts that are sourced from Kerala and Karnataka, Naturals pioneered this flavour in the country and this easily goes down as one of our classics. The small pieces of malai are a sweet surprise in each bite!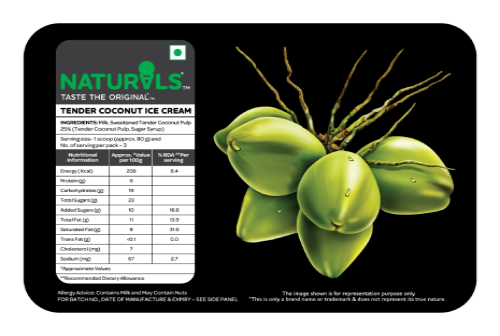 If there are two fruits that almost every Indian looks forward to without fail, every single year is the king of fruits, the mighty mango and the winter smitten strawberry. The minute we know it is harvesting season, we are ready to source and churn out these specials. Our Mango Ice Cream is made with mangoes sourced from Ratnagiri. India's love affair with mango is so evident because we love to eat this ripe fruit with almost everything and when churned into an ice cream – gives it a whole new dimension. It is creamy, familiar and a true testament of the jewel of our state. Our Strawberry Ice Cream is made with produce right from the renowned fields of Mahabaleshwar – each spoon we know will teleport you to the land of strawberries!
While these are just some of the most recommended flavours, there are so many more at Naturals Ice Cream that we know you'll love! Apart from these ten flavours, you must relish the year-long – Watermelon, Muskmelon, Lychee, Papaya Pineapple and more.
All of these flavours can be enjoyed as a single scoop for solo cravings, as a family pack for get-togethers and blitzed into a shake too. The best part is that every ice cream flavour is a true labour of love conceptualised by our founder. With zero compromise on quality and flavour, we ensure that only the best ingredients are used to make our ice creams – the best quality milk right since inception, quality sugar and carefully as well as consciously sourced fruits from around India.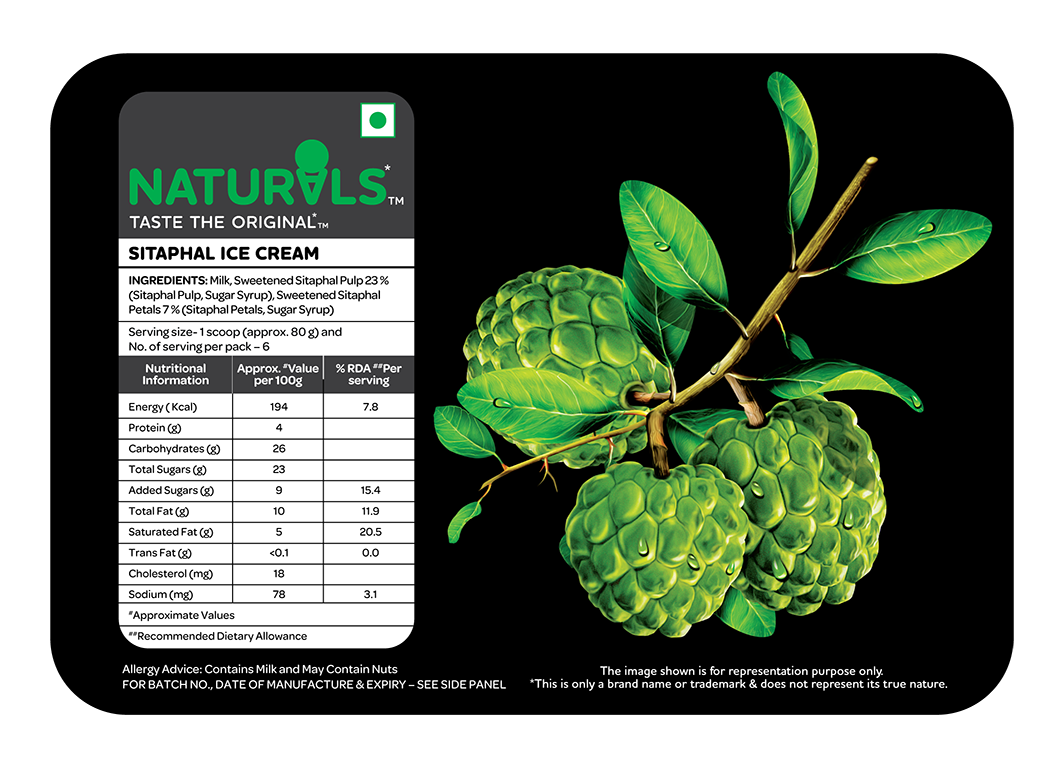 Naturals, while once only in Juhu, Mumbai, today are spread across 15 states in India with 165+ parlours. So, whether you are in Mumbai, Delhi, Kerala, Bangalore, Kolkata or Hyderabad, your ice cream cravings will be satisfied and your tastebuds will thank us! You can either swing by one of our stores for your cup of joy or order your tub of happiness online via our thrive, swiggy or zomato.
With our constant innovations, evolution and diverse offerings, Naturals Ice Cream has become a true Indian phenomenon that encourages Indians to appreciate and savour the fruits and flavours of our country. At Naturals, we promise to always keep the excitement going by keeping up with Indian tastes, trends and times and by maintaining superior quality, always. We take great pride in the process as much as the outcome, and always hope that customers can recognise that through our flavours, culture and service across every Naturals Ice Cream parlours.
So, what are you waiting for? Swing by and 'taste the original'! We know you won't stop at one scoop!