India is the land of a multitude of cultures, festivals and languages and with this comes a variety of food! There is a food associated with every type of festival and at Naturals, we love exploring this diversity.
Ganesh Chaturthi is the largest festival for Maharashtra where families, friends and communities bring home Lord Ganesha. He is invoked, celebrated and taken care of dearly and the festival brings with itself an abundance of cheer and joy through the month! The city glimmers with lights and smells absolutely divine! Each stretch you pass by, smells of fresh flowers, incense and the sweet whiff of jaggery!
This festival is a favourite for all the above reasons but what gets us most excited is the sweet that is so fondly associated with the festival of Ganpati, the Modak! While there are a bunch of sweet offerings made to the lord like Motichur Laddus, Karanjis, Puranpoli, Sheera and lots more, the Ukadiche Modak pretty much epitomizes this festival.
What makes this sweet treat all the more special is that it makes its appearance for this festival only! A bite sized dome shaped treat, so delicious that you often lose count of how many you've managed to gobble! An Ukadiche modak is made with a dough of rice flour and filled with a coconut jaggery filling with some cardamom powder too.
We love this sweet so much that we wanted to create a festive special limited-edition flavour called the Prasadam inspired by the modak. Just like our other ice creams, this 100% vegetarian flavour will elevate your festive mood and make your celebrations extra sweet. So, what goes into this special Naturals Prasadam flavour ice cream? Milk forms the base of this ice cream and it is then flavoured with coconut pulp, banana pulp, sugar, kismis and cardamom powder. Both coconut and banana are extensively used as an offering to the lord and was the perfect fit. Almost every prasad made is also decked with kismis and flavoured with cardamom. Our Prasadam flavour is not just unique sounding but each spoon is reminiscent of our memories of this loving festival.
As this is a limited-edition flavour, it is available only during Ganesh Chaturthi. You can enjoy this flavour either by visiting a Naturals Ice Cream parlour near you or ordering on Thrive, Swiggy or Zomato. Our Prasadam Ice Cream flavour is available as a single scoop for when you are pandal hopping with friends, as a family pack that is perfect to dig into after a long day of celebrations or something you can take to homes and bappas you are visiting. This can be a unique offering from your side to your favourite Ganesha! This flavour is also available as a shake at our ice cream parlours if you are in a hurry but cannot say no to the delicious flavours of our Prasadam Ice Cream.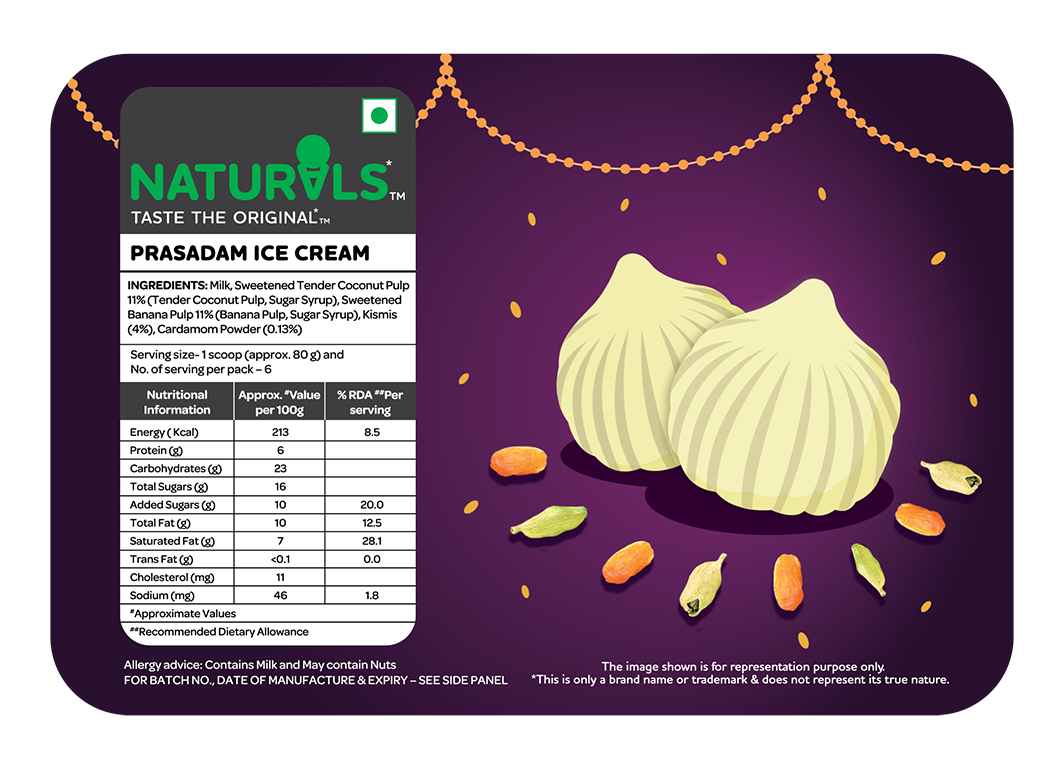 We know that a farewell to Bappa is always hard but bidding adieu with our Prasadam Ice Cream is like a sweet goodbye until the next year. So, what are you waiting for? Get into your festive best, bring out the aarti thali and don't forget to stop by for your share of our Naturals Prasadam Ice Cream. It is made with only the best ingredients, for you and dearest Bappa.
Naturals Ice Cream is a celebration of our culture, keeps up with trends and is a brand that is truly and whole heartedly Indian in nature!